[1] - A character with a stick and peace symbol. In Spanish, "pacifico" is an adjective meaning "peaceful". In one match, He, El Loco Mosquito and Protozoa wrestled Rikochet together but are easily defeated despite outnumbering him. Voiced by Miguel Sandoval.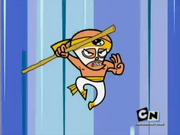 Signature move
Token Fists of Fury-Yin Yang symbols surround him and his staff sprouted out flowers used to tickle his opponents
Trivia
He is the only wrestler to use a weapon which is his staff
Ad blocker interference detected!
Wikia is a free-to-use site that makes money from advertising. We have a modified experience for viewers using ad blockers

Wikia is not accessible if you've made further modifications. Remove the custom ad blocker rule(s) and the page will load as expected.